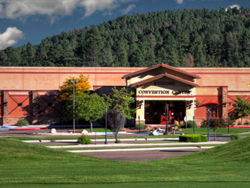 When: September 26 – September 29, 2019
Where: Ruidoso Convention Center
New dates, same format.  This year's 21st Annual New Mexico Fire Service Conference will begin on Thursday, September 26th and conclude on Sunday, September 29th.  Mark your calendar!
2019 NMFSC Exhibitor Sponsor Brochure  Coming soon…contact Mariah at mvaldez@nmml.org for questions.
2019 NMFSC Preliminary Brochure  Will be available in the coming months.
We value your opinion, if you have specific topics you would like to see at this year's conference, let us know.  Email any of the NMFCA Board Members or NMFCA Staff Liaison with your ideas. 
Scholarship:  Linda Gaume Memorial Scholarship
Deadline:  Friday, September 13th.
The New Mexico Fire Chiefs Association is pleased to offer the Linda Gaume Jaramillo Memorial Scholarship for attendance to the 2018 New Mexico Fire Service Conference.  This scholarship will be awarded to an individual in the fire service field who requires financial assistance in order to attend the NM Fire Service Conference.  This scholarship covers the cost of the Conference registration fee and is non-transferrable.
2019 LGJ Memorial Scholarship Criteria
2019 LGJ Memorial Scholarship Application PDF