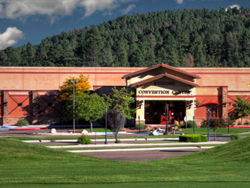 When: September 24 – 29, 2020
Where: Ruidoso Convention Center
After much consideration and in light of the growing concerns about COVID-19 and the expected second wave in the coming fall, the NM Fire Chiefs Association Board of Directors has made the decision to cancel the 2020 NM Fire Service Conference.  We follow suit with the majority of Fire Service related Trainings and Conferences throughout New Mexico and the United States.
Per the NMFCA By Laws, we are required to conduct an annual business meeting at which time elections will be held.  You will be notified as to the date and time of the annual business meeting, which we anticipate will be conducted via Zoom or Conference Call.
The 2021 New Mexico Fire Service Conference will take place Thursday, September 23rd thru Sunday September 26th in the beautiful Village of Ruidoso.  Send us your suggestions for speakers, sessions, workshops, and any presentations that you would like to see at next year's conference.
The 2019 NM Fire Service Conference was a great success!  Thank you to all who attended. 
Chief Wayne Baker's 2019 NM Fire Service Conference presentation documents may be found on the archives tab.
Curtis Family New Mexico Scholarship – for attendance to any Fire Service related conference.